CatCentric goes international and other awesome updates!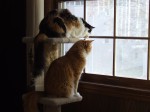 It's been five months since I last posted about changes to the site, and so much has happened I hardly know where to start!
CatCentric is only a few days away from its very first annual anniversary and the response to the site has truly surpassed all of my expectations. I am pleased and delighted to be such a visible part of the growing movement toward feeding cats the foods they were born to eat, and especially honored to have positively impacted so many lives one-on-one and via the information shared through CatCentric's various efforts.
With fans in over 20 countries (how amazing is that?!), I have begun to add information specifically tailored for international readers, starting with a Canadian Commercial Raw Cat Food Sources page that lists nearly two dozen online and local raw cat food retailers who deliver to or are located within Canadian provinces. More international resources are planned, and help from CatCentric readers living abroad would be very much appreciated. If you have any ideas, suggestions or information you think would be helpful to others in your country, please contact me!
As I began sketching out the CatCentric concept a year ago, I knew from the start one of the basic features differentiating this site from others would be its non-static nature. Our understanding of feline nutrition, behavior and basic care is constantly evolving and as I come across new information and studies, CatCentric is appropriately updated. To help readers identify new information more easily, all pages of the site now include a 'page last updated mth/day/yr' footnote and articles will be annotated as they are updated. In addition, items added to any list – such as the studies or raw food sources – will include an 'added date' which will remain visible for three months or so.
And speaking of studies, well over a dozen have been added since April! (Although only those added in the last month are marked as new.) This extensive list is another feature that sets CatCentric apart, and is likely the most popular and well-received resource of this entire website. As this page continues to expand, I will eventually break the studies, reports and publications down into more specific sections to ensure you can continue to easily locate those that interest you the most.
To help canned food feeders choose among the insanely endless options available, the Canned Foods page now includes links to several "Recommended Canned Foods" lists maintained by individuals whose expertise I trust and respect. If your cat's diet includes any canned foods, I highly recommend you check these out!
As a result of the anti-raw policies and recommendations adopted by the AVMA, AAHA and the CDC, I have created a Regulations and Policies page. This page includes information on the history of the pet food industry, the minimal regulations covering it and links to the various governing agencies, both in the U.S. and abroad. Currently, there are four subpages, all reposts of various letters and articles absolutely decimating the alleged reasoning behind the anti-raw policies and the studies used to prop them up.
I have also added a page that will allow donations to CatCentric's efforts. It's natural that grateful cat owners wish to give back in some manner and until now, I've always suggested they "pay it forward" by helping spread the word on the importance of feeding species-appropriate diets to cats. However, at the repeated urgings of some wonderful friends, I've set up an account that will allow anyone who wishes to help support this site in a financial manner a way to do so. (If you choose to to be one of those folks, please know you have my heartfelt thanks!)
Thanks to Dakota Bawden, founder of the raw food store True Carnivores, a new Special Feature, Switching a Cat to Raw Food, has been uploaded for our visual readers. This flowchart graphically and clearly depicts the basic steps for transitioning a cat from kibble to raw.
Three more articles have also been added since April, Maintaining whole-body health in the indoor cat, Troubleshooting the Transition, and Raw Feeding Your Cat: Just the Basics, and the Lighter Reading, and Just for Fun blog roll links have been updated. In addition, I've added a new blog roll, Specialty Blogs, and a new blog post category for CatCentric posts called Precious Purrsonalities.
I've been dragging my heels about it, but, by popular request, the Resource Center includes a new section just for canines. (So all of you who love cats and dogs can stop sending me hate mail. *smile*)
There are now so many pages, articles and features on this site that a Site Map has been added to ensure readers can always locate what they need, as quickly as they need it.
Finally – and I'm very excited about this latest update – CatCentric's Facebook page has two new "Representatives", Laurie Goldstein and Carolina Alves de Lima, two lovely and knowledgeable ladies who have agreed to help ensure the FB community stays strong as it continues to grow. Regular readers may remember that Laurie has written articles and posts for CatCentric. She has eight senior kitties who all transitioned to raw as adults, as well as extensive analytical skills perfect for answering questions that involve detailed data points or extensive research. Carolina, on the other hand, has three beautiful kitties who underwent possibly the most difficult and prolonged transitions I've ever assisted, from both a behavioral as well as a physical health aspect. Having been through it, she is the soul of patience with anyone in the midst of a difficult transition.
If you are thinking about switching your cats to raw, this is the place you want to go for support!
Lots of exciting and fun things are happening here at CatCentric.org! Thank you so much for being a part of this wonderful experience; I hope you continue to find the information provided herein interesting, informative and most of all – helpful in making your kitties healthier and happier!
---
If you enjoyed this post or found it informative, please "Like" it, "Tweet" it, or share it using any of the buttons below. And don't forget to check out our
FB page
, join the discussions in our
awesome FB group
and follow us on
Twitter
!